---
Dataset Overview
The ReSynth Dataset contains 24 outfits of diverse garment types, dressed on varied body shapes across both genders, as shown in the image below.
The clothing designs are created by a professional clothing designer so that they faithfully reflect those in the real scanned human dataset (RenderPeople).
All outfits are simulated using a consistent set of 20 motion sequences captured in the CAPE dataset.
We provide both the simulated high-res point clouds as well as the packed data that's ready to run with the POP model introduced in the same paper. Check out the "More Information" and "Download" sections for more information.
The ReSynth data is growing. We plan to release more clothing designs and high-quality simulations with more motion diversity in the coming year. Stay tuned!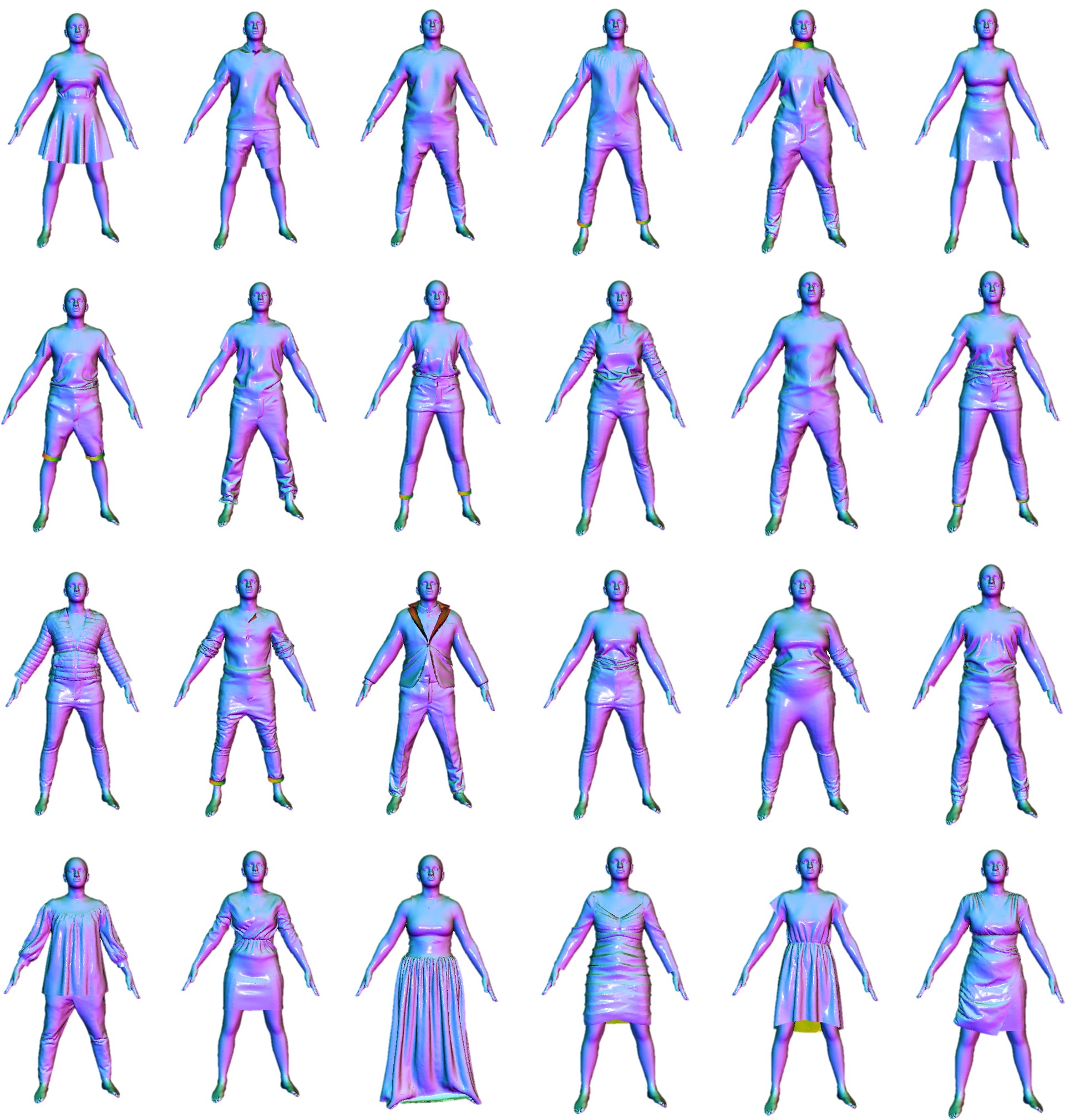 ---
Citing the ReSynth Dataset and POP Model

If you find the ReSynth dataset useful to your research, please cite our work:
@inproceedings{POP:ICCV:2021,
title = {The Power of Points for Modeling Humans in Clothing},
author = {Ma, Qianli and Yang, Jinlong and Tang, Siyu and Black, Michael J.},
booktitle = {Proceedings of the IEEE/CVF International Conference on Computer Vision (ICCV)},
month = oct,
year = {2021},
month_numeric = {10}}
@inproceedings{SCALE:CVPR:2021,
title = {{SCALE}: Modeling Clothed Humans with a Surface Codec of Articulated Local Elements},
author = {Ma, Qianli and Saito, Shunsuke and Yang, Jinlong and Tang, Siyu and Black, Michael J.},
booktitle = {Proceedings IEEE/CVF Conf.~on Computer Vision and Pattern Recognition (CVPR)},
month = jun,
year = {2021},
month_numeric = {6}}